Minecraft Account
---
You need to live a premium / purchased / valid Minecraft account.

This means it must have been purchased from Mojang or Microsoft.

We will NOT allow or condone the use of cracked or stolen accounts.
Due to the nature of roleplay and such on the server, we will only allow players to have ONE account!

When you log into the server, you will be required to link your account to your Discord account!
Computer Hardware Requirements
---
A 64-bit processor of at least 2.7Ghz
At least 8GB of total system memory

Lower may be usable but play-ability could be quite poor.
Total system memory of 8GB or greater is recommended

At least 2GB of storage.

SSD storage is preferred; M.2 or SATA
HDD will suffice but could lengthen game load time.
Java 8 Installation
---
1. Go to
https://www.java.com/en/download/manual.jsp
2. Find your operating system and download either (64-bit) or x64
3. Run the downloaded installer
Once complete, you can go onto the next section to install the launcher.
Prism Launcher Installation
---
Prism Launcher requires VC_Redist 2022 as a prerequisite. You can download that at
https://aka.ms/vs/17/release/vc_redist.x64.exe
Now you can download the Prism installer at
https://prismlauncher.org/download/
Choose your operating system and run the .exe
It is safe to run if Windows shows a popup!
When you run the installer, you will be prompted to select your language - do so.
The next step will be to select your Java version and configure memory:
You will be given a list of Java versions to choose from; below is an example of what my list looks like. The list of java versions will vary with each computer.
The import thing is to select a architecture with 64 and more importantly, a version that is
1.8.0
which means Java 8.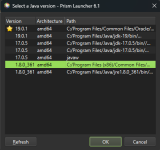 Under the list of java versions, you will need to configure the memory allocation for Minecraft. Here is my configuration for memory:

The absolute minimum is 4 GB or 4096 MiB and we recommend 6144 MiB (6GB). The maximum allocation should be 2096 MiB more than the minimum if you are being conversative. However, if you have memory to spare. Recommendation is to allocate 10, 12, or 16GB to give the game some 'breathing room.'
You can get the memory numeric value by doing
1024 * ___ GB = ____ MiB
. So
1024 * 8 = 8192 MiB
which is 8GB.
Patriam Modpack Install
---
Now that the launcher is configured, you can install the Patriam Modpack!
Go to the main page of Prism Launcher and hit
Add Instance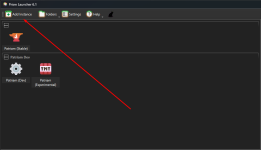 Hit
Import from zip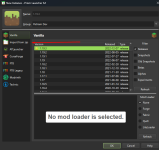 Paste in
https://patriam.cc/download/patriam-multimc.zip
into the bar and thats it!
Optionally, you can also give the instance a name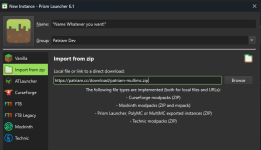 Should you have issues using the link to install, you can manually download it here: https://patriam.cc/download/patriam-multimc.zip and then drag and drop it in Prism Launcher to install it.
Running the Modpack
---
Once all of the above steps are done, you can now run the game!
You can run the modpack by either double-clicking the instance or right-clicking and hitting "Launch".
You should see a small white popup called packwiz come up and download everything. This is a jarfile which allows the modpack to be updated and pushed to all clients as it reads the up-to-date file from a Gitlab repository.
Once all the mods/updates are completed, you will see the game open and start to load everything!
Recommended Additions
---
Should you wish to further improve your game and you have the available resources to use, there are a few shaders we recommend you try and see what fits your preference.
One or more of these are uses by majority of Patriam Staff. Alex and I both use Sildurs and Complementary; plus I also use SEUS as well.
Shaders:
​
​
Resourcepacks
If you wish to use a resorucepack, you are free to use something like Sphax, Faithful, or anything of that sort. Sphax will have mod patches which will allow you to get Sphax textures for certain mods.​
Of course, X-Ray texturepacks and anything of that sort is forbidden and we will find out!​
Last edited: